Motortrade Case Study
We work with a number of motortrade companies. One of those is a multi franchise garage group and we have increased their ebay sales turnover by over 420%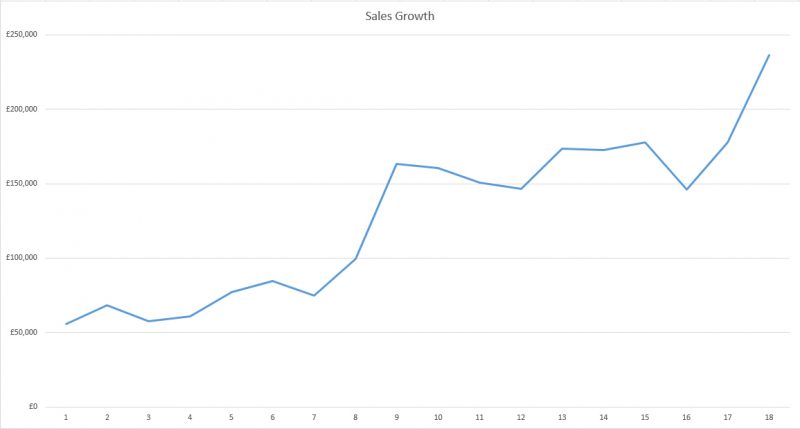 Growth History
Period 1 to 4 When we first started working with the client they had issues with ebay defects and staffing. In period 1 we provided training in how ebay works alongside reviewing their ebay accounts. We then built a stepped plan to get the accounts back into good standing and to recruit staff in stages.
Period 4 to 6 Sales initialy rose after optimising account management and putting in plate processes to eliminate the effect of defects.
Period 7 to 9 With the accounts now not effected by defect issues and with the initial staff in place and trained, we pushed for and achieved increased turnover, at this stage averaging over 300% of the initial sales levels.
Period 10 to 15 Sales were now limited by staff levels and declines were due to staff leaving. Once staffing levels were increased and new staff were trained we again pushed for sales growth.
Period 16 onward With everything in place sales growth was once more achievable and during period 18 increased to over 420% of the initial sales.
Summary
In this case growth took longer due to the initial effects of restrictions put in place by ebay due to defects on the clients accounts and insufficient staffing numbers and knowledge. Once the restrictions were rectified by us we were then able to work with the client to identify and train staff to achieve growth. Growth plateaued when key staff left but we quickly trained up new staff and helped to put processes in place to cope with increased sales ahead of once again stepping up sales.
Due to our long term partnership with our clients we were able to ensure no issues were caused by ebays constantly changing rules and requirements. By feeding in changes early it has meant that changes to listings and accounts can be minimised by addressing them well in advance before they effected sales. One example of this was ebays requirement to remove contact details from listings. As we knew this was coming for a number of months before it was enforced we were able to address it a little bit at a time instead of having to panic when the deadline arrived. This enabled more focus on sales growth instead of account management.
---
Instantly arrange a FREE 30 minute Initial consultation
Book a FREE no obligation, initial consultation with our automotive expert George to discuss size of the potential and how we can increase your profits.
Click HERE to arrange